McTavish Haunted Woods
October 26, 2023 to October 27, 2023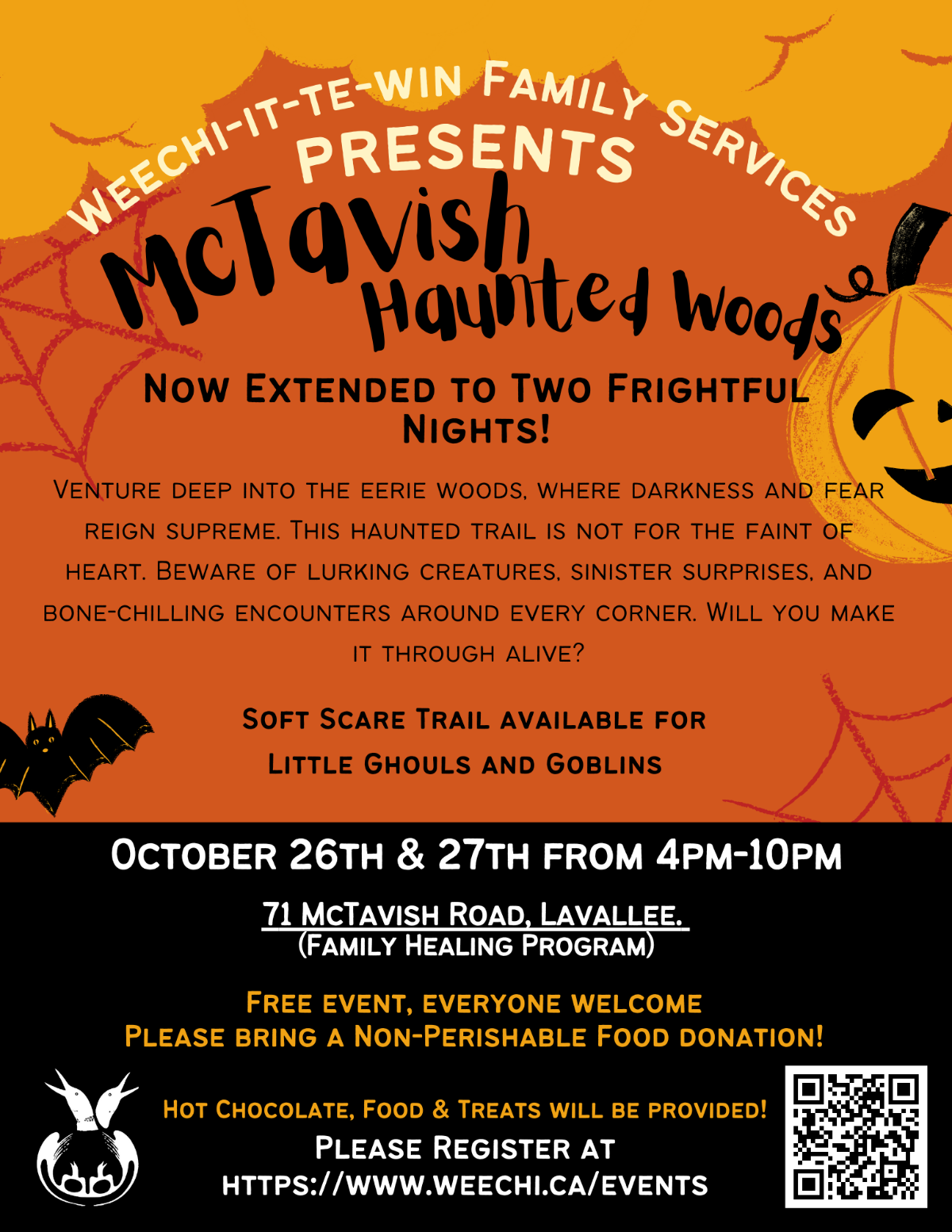 Please register above or Click Here
🎃🌟 Spooktacular Halloween Event! 🌟🎃
Get ready for an unforgettable Halloween experience that will send shivers down your spine and delight your little ones.
👻 Spooktacular Haunted Halloween Trail (2 Nights Only) 👻
🗓️ Dates: October 26th and 27th
🌒 Time: 4:00 PM - 10:00 PM
💵 Cost: FREE
📍 Location: Weechi-it-te-win Family Services Family Healing Program - 71 McTavish Road, Lavallee.
☕ Hot Chocolate, Food & Treats will be provided.
Please bring a non-perishable food item for donation.
🌲 Venture deep into the eerie woods, where darkness and fear reign supreme. This haunted trail is not for the faint of heart. Beware of lurking creatures, sinister surprises, and bone-chilling encounters around every corner. Will you make it through alive?
🎃 Soft Scare Trail for Little Ghouls and Goblins 🎃
🍭 For our younger guests and their families, we have a delightful, not-so-spooky adventure in store. Our Soft Scare Trail is a magical journey through a world of friendly Halloween characters and enchanting decorations. It's perfect for kids of all ages!
To Keep the Spirits Moving: Kindly Choose One Night and Keep Your Visit Spooky but Swift! Help Us Keep Traffic At Bay!
Registration or a ticket is not required but highly recommended. Don't worry if you can't make it during your selected time slot or if you have an extra person with you. Please still come out and attend.
Get ready for a night of scares and fun that you won't forget! We look forward to seeing you there! 🎃👻🌟
---