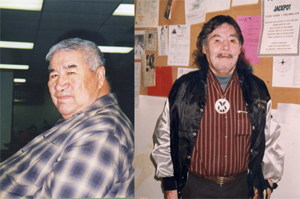 Weech-it-te-win will always remember and acknowledge the two grandfathers that stood up and changed how child welfare services are delivered in our nine (9) First Nation partner communities located in the Rainy River District. Moses Tom and Joseph Big George believed in the original ways of customary and community care. They spoke of the fundamental importance for Anishinaabe children to be raised up within their family system, and cared for in a customary manner by their community.
Moses Tom (Big Grassy First Nation) and Joseph Big George (Anishinaabeg of Naongashiing) put their hearts and minds together to see what could be done for the children. They served notice to the local Children's Aid Society and demanded that no more children were to be removed from the community. They asserted that Anishinaabe people had never relinquished their right to care for their children. Some people remembered Moses and Joseph waiting on the 612 Highway to turn Children's Aid workers away from their communities.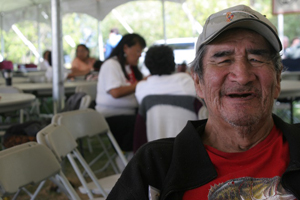 Moses and Joseph knew that the removal and adoption of children would have negative impacts on future generations and they responded accordingly. They were our warriors and will always be remembered for their actions. We can never forget their Vision. Communities taking care of their children, within their families, land-base, and way of life (culture). "Caring for our own" and "bringing our children home" were common themes spoken by Moses and Joseph.
Weechi-it-te-win was founded on the Vision of Moses and Joseph and has acted upon that Vision by transferring child welfare, prevention, and family preservation services to the First Nations. Weechi-it-te-win will continue to devolve and support the First Nations in caring for their own children through the customary ways of their communities.